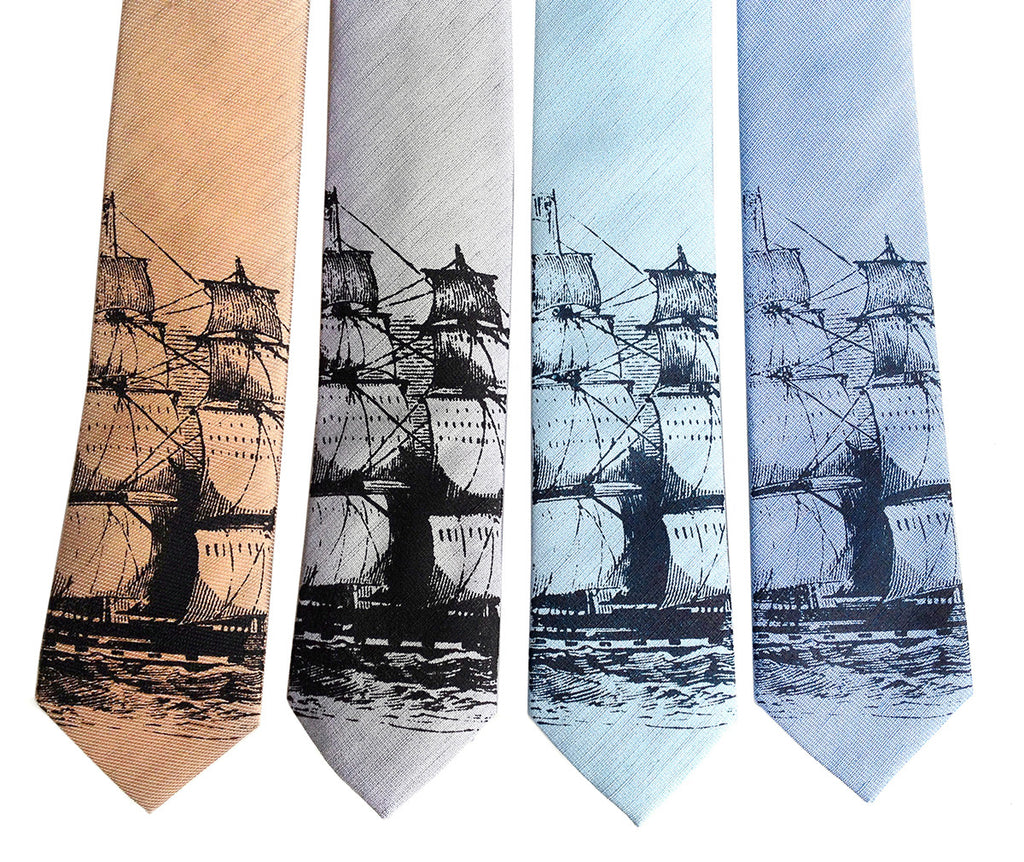 Wedding Custom Printed Linen Neckties
Yes, this is where you order up customized modern cut linen neckties! Up to 20% off depending on quantity!

You can build a necktie in the perfect color and design combination that is unique to your wedding style.
Please be sure you see our colors in real life by ordering swatches before you order! Ordering swatches first will provide you with sanity for the price of a cup of coffee. Custom color orders are non-refundable and non-exchangeable. 


Discounts apply to the same printing ink color and same design, but feel free to mix fabric colors! If you pick the same color and ink but different designs, each of the ties will be the full price of $61 even if you order 20 of them and we'll send you an invoice for the balance.
Design Suggestions

You can see all possible tie graphics right here. We strongly recommend you choose one of our more bold, less detailed and less delicate prints for this linen fabric as the tie has its own texture that can compete with more subtle designs. A contrasty printing ink color is also suggested. Any questions about what designs and print colors work best, please don't hesitate to contact us!

Specifications

• Weave: bias cut, woven solid.
• Tie Fabric: 65% silk / 35% linen.
• Interlining: sturdy yet pliable.
• Width: 2.4" (6.2 cm)
• Length: 58" (147 cm)
• Care: please dry clean or gently spot clean, hight heat iron.
• Printed & designed in Detroit. Made in USA.

Linen is admired for it's unique and imperfect slubs and nubs -- it's variations are what make it stand out from other fabrics. We've blended in silk with the linen threads to add more consistency and polish. This fabric has been custom woven for us -- we've named each for the iconic waterways, historic happenings, neighborhoods, streets, building and treats our fair city of Detroit is famous for. Rustic, crisp, clean and undeniably elegant -- sure to impress the most dapper gent.
 
17 fabric colors
butter yellow (Paczki), champagne (Fisher), charcoal (Zug), coral pink (Brush Park), green (Palmer Park), khaki (Packard), lavender (Purple Gang), light coral (Sherwood), light grey (Woodward), light khaki (Davison) mint green (Spirit of Detroit), nautical blue (Lake St.Clair), pale copper (Vernors), pale turquoise (Lake Erie), penny copper (Conservatory), red (River Rouge).
100+ Printing ink colors
amethyst, antique brass, apple-lime, aqua, aubergine, black, black pearl, blue-violet, brass pearl, bright lime, bronze, burgundy, burnt orange, butter, buttercup, chartreuse, chocolate, clover, cobalt, copper, coral, cornflower, crimson, dark black pearl, dark burgundy, dark chartreuse, dark coral, dark emerald, dark grey, dark purple, dark salmon, dark teal, deep purple, dove grey, eggplant, electric blue, emerald, espresso, fuchsia-berry, ginger, glow blue, glow fuchsia, glow pink, glow violet, glow yellow, gold, golden olive, grass, green grey, hot pink, ice, ivory-cream, key lime, lavender, light coral, light pink, light sky, light violet, magenta, mahogany, marigold, mauve, mid-teal, mint, moss, mustard, muted orange, navy, orange, pale grey, pale lavender, pale sun, pea, peach, pear, periwinkle, pink, platinum, pumpkin,
radiant orchid, 
raspberry, red, rose, rosebloom, royal blue, rust, sage, scarlet, sherbet, silver, sky, slate, smoke, soft gold, spring green, steel, tan, tangerine, taupe, teal, tiffany, turquoise, warm cream, warm eggplant, white, yellow
Please note
Though our ties are photographed in natural light, monitor renditions may vary. When color matching is crucial, please use our
swatch service
to be sure!
---
Make this design uniquely yours by
choosing custom ink and fabric colors.
If you would like help from the pros when choosing custom colors to match please email us at
orders@cyberoptix.com
You can also call
855-LAB-TIES
(522-8437) during Monday-Friday 9:00am-5:00pm
Gift Wrapping Options: