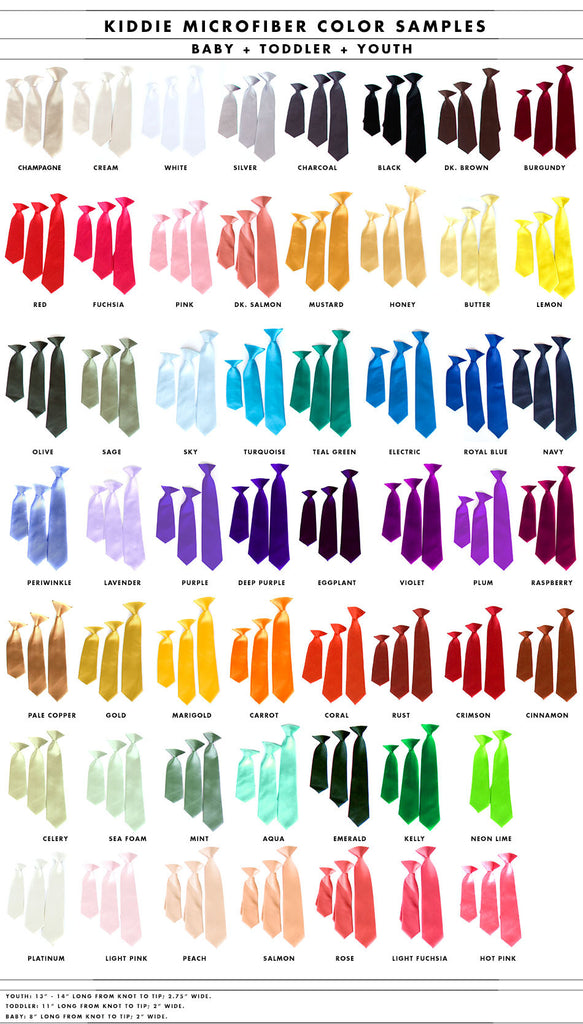 Solid Color Kid's Ties, No Print
Yes, this is where you order plain, solid color boys ties, with no print at all.

This is for you, minimalist friends! No print, no snazzy fancy design, just a solid color boy's clip-on tie in your favorite color. Perfect for wedding parties or matching a parent, grandparent, or big brother.  Have fun with it and be cool at school.


Specifications + Size


•  vegan-safe satin finish microfiber
•  batch dyed and handsewn
•  soft and silky to the touch
•  each approx. ~2.5" wide
•  baby: ~8" long from knot to tip. Recommended 0-2 years.
•  toddler: ~10" long from knot to tip. Recommended 2-5 years.
•  youth: ~14" long from knot to tip. Recommended for 5 to 11 years.
•  long wearing clip-on hardware - no tying needed!
 
56 Fabric colors 

apple, aqua, black, burgundy, butter, carrot, celery, cinnamon, champagne, charcoal, coral, cream, crimson, dark brown, dark salmon, deep purple, eggplant, electric blue, emerald, fuschia, gold, honey, hot pink, kelly, lavender, lemon, light pink, marigold, maroon, mint, mustard, navy, neon lime, olive, pale copper, peach, periwinkle, pink, platinum, plum, purple, raspberry, red, rose, royal blue, rust, sage, salmon, seafoam, silver, sky, teal blue, teal green, turquoise, violet, white 
Please note
Though our ties are photographed in natural light, monitor renditions may vary. When color matching is crucial, please use our
swatch service
to be sure!
Gift Wrapping Options: