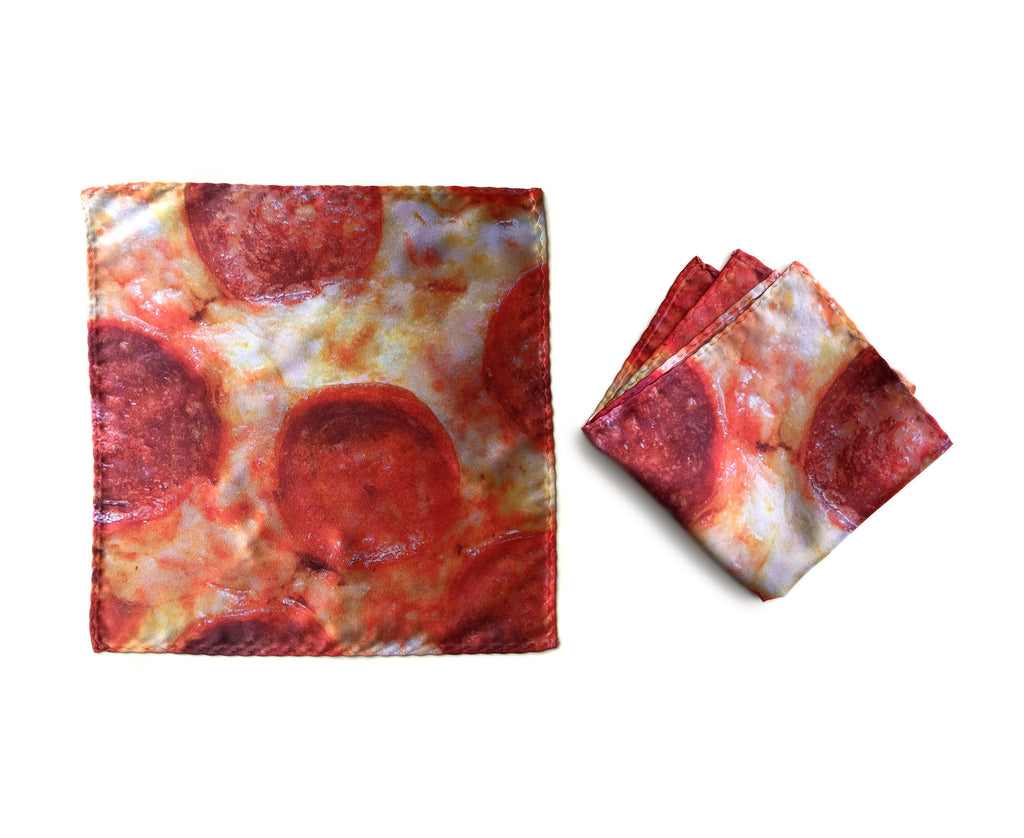 Pepperoni Pizza Pocket Square
Pizza Pocket Square. Pepperoni and Cheese pizza print men's pocket square. What looks like a yellow and red abstract pattern from afar is really a slice of heaven, in all it's greasy, cheesy, meaty, pepperoni glory. In the Midwest, your pizza is square. In New York, you fold your pizza. Now you can do both, and keep it in your pocket for whenever you need a snack! You will be the envy of all your friends with this square slice of life.
• Pattern: Giant Pepperoni Pizza.
• Fabric: Silky-soft satin microfiber.
• Print: Dye Sublimation, both sides
• Print size: All-over print.
• Square Size: Approx. 10" x 10". 
• Finish: Rolled and zigzag stitched hem. No raw edges! 
• Care: Hand wash, spot clean, or dry clean.
• Creases and folds? Gently iron medium.


This is a double-sided print so both sides of the fabric are dripping with pizza pie goodness. Original illustration from our own delicious photo. Oops. We ate the subject.
Sublimation prints are all done in-house in our Detroit, Michigan studio. No stiff printing ink, this is a dye-based process that permanently merges the print with the fabric, all silky-soft to the touch! 
Gift Wrapping Options: