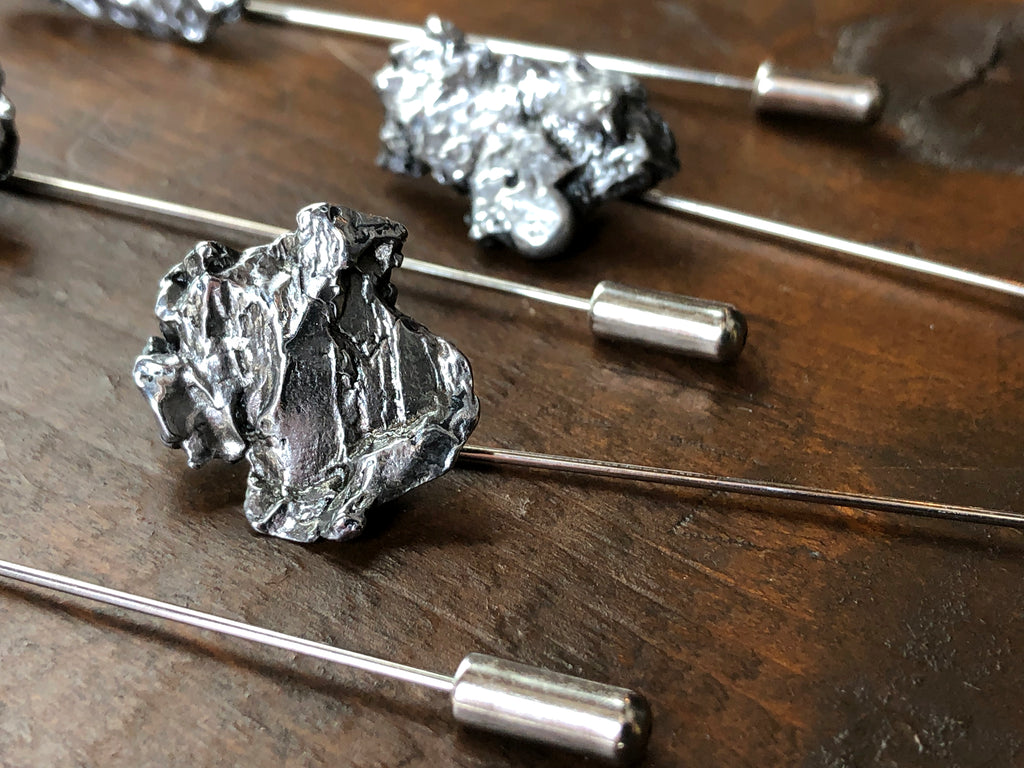 Meteorite Lapel Pin. Campo Del Cielo, Irony Meteorite. Gemstone stick pin
Meteorite Lapel Pin. 
Attention space enthusiasts! We went on an epic buying trip and have hit the space rock jackpot! CAMPO DEL CIELO METEORITES from Argentina. 💥 Floral boutonniere? Nah. Flowers die in a day. Finally a lapel pin that really...rocks! 😉This cool rock won't die, it's looked like this for many millions of years and you can keep on wearing it forevs!!!
One lapel pin.
Meteorites average ~3/4" wide at their widest point
Each weighs ~6g
Origin: Campo del Cielo, Argentina / Space
Certificate of authenticity included
Meteorite composition: 92% iron; 6% nickel, 2% trace minerals
These are a little larger than what we use for the cufflinks and tie tack so it stands out more on your jacket.
Stick pin part is 6cm long
Pin hardware is soldered directly to the meteorite
Handmade by us, and the universe. Please allow for slight variations in color, shape and size of the specimens
Hand-selected, extra quality stones. Sourced in-person from the Tucson Gem Show
Due to the high iron content, a clear protective finish has been applied to help prevent rusting.
Snazzy gift box included.
►ABOUT THE STONES:
Campo del Cielo translates to "Field of Heaven" Though it fell to Earth more than 4000 years ago, this meteorite was first discovered in 1576 by a Spanish military expedition, searching for a source of iron. They have been purchased from Argentina from a member of the International Meteorite Collectors Association (IMCA). The IMCA adheres to the highest standards of meteorite identification and proper labeling practices.

Scientists believe that - like other iron meteorites - the Campo del Cielo mass originated within the Asteroid Belt located between Mars and Jupiter, and probably formed around the same time as the earth: some 4.5 billion years ago.

Only about 5% of meteorites found on Earth are iron, and the Campo del Cielo material is highly collectable. Each is about 5 grams.

Each pair of cufflinks is unique and one of a kind, and made by hand by Cyberoptix founder, Bethany Shorb. Working between Detroit, MI and Los Angeles, CA, she finds all our stone, crystal, shell, fossil and horn specimens. They are intuitively sourced in person, in LA from only the most reputable suppliers.
---
Make this design uniquely yours by
choosing custom ink and fabric colors.
If you would like help from the pros when choosing custom colors to match please email us at
orders@cyberoptix.com
You can also call
855-LAB-TIES
(522-8437) during Monday-Friday 9:00am-5:00pm
Gift Wrapping Options: