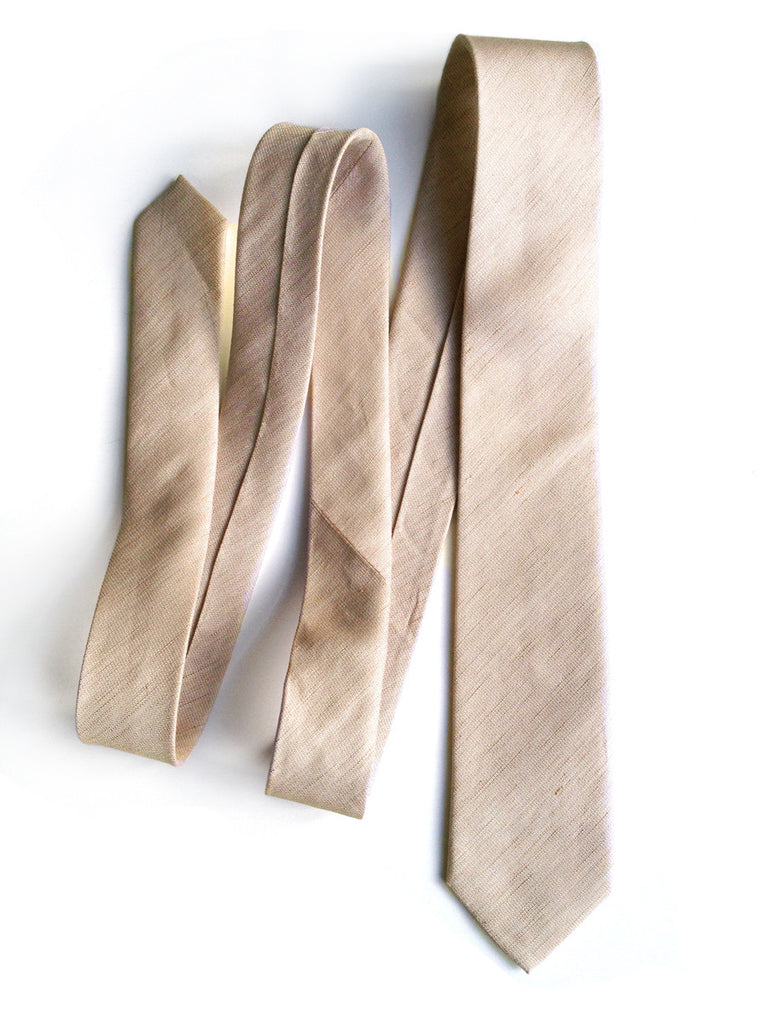 Khaki Linen Necktie. Solid Color Tie, Packard
Khaki silk & linen blend necktie. Tan woven "Packard" tie. These come in one perfect "Goldilocks" middle tie size: our narrow, modern slim cut. Not too skinny, not too wide. Just right! In a woven shot pattern, the alternating silk and linen threads in the warp and weft of the fabric are each very light and a bit darker, when seen together make an extraordinarily unique solid fabric when seen at a distance.
• Material + pattern: bias cut, woven solid.
• Colors: variegated khaki threads
• Tie Fabric: 65% silk / 35% linen.
• Interlining: sturdy yet pliable.
• Tipping: black diamond print.
• Width: Approx. 2.4" (6.2 cm)
• Length: 58" (147 cm)
• Care: please dry clean or gently spot clean.
• Creases and folds? Gently iron medium.
• Condition: Brand new with tags.
• Designed in Detroit. Made in USA.
• Ready to ship!

We have 5 fabric colors in the khaki to copper range for you - as we know subtlety in shade is important! "Packard" listed here is our second-to-lightest of the group. Please see the 2nd photo for the most accurate comparison.

Linen is admired for it's unique and imperfect slubs and nubs -- it's variations are what make it stand out from other fabrics. We've blended in silk with the linen threads to add more consistency and polish.

This fabric has been custom woven for us -- we've named each for the iconic waterways, neighborhoods, streets, building and treats our fair city of Detroit is famous for. Rustic, crisp, clean and undeniably elegant -- sure to impress the most dapper gent. Bias cut, hand rolled, and hand sewn with a hidden slip stitch, ensuring a perfect knot every time. New from Well Done Goods by Cyberoptix.
Gift Wrapping Options: