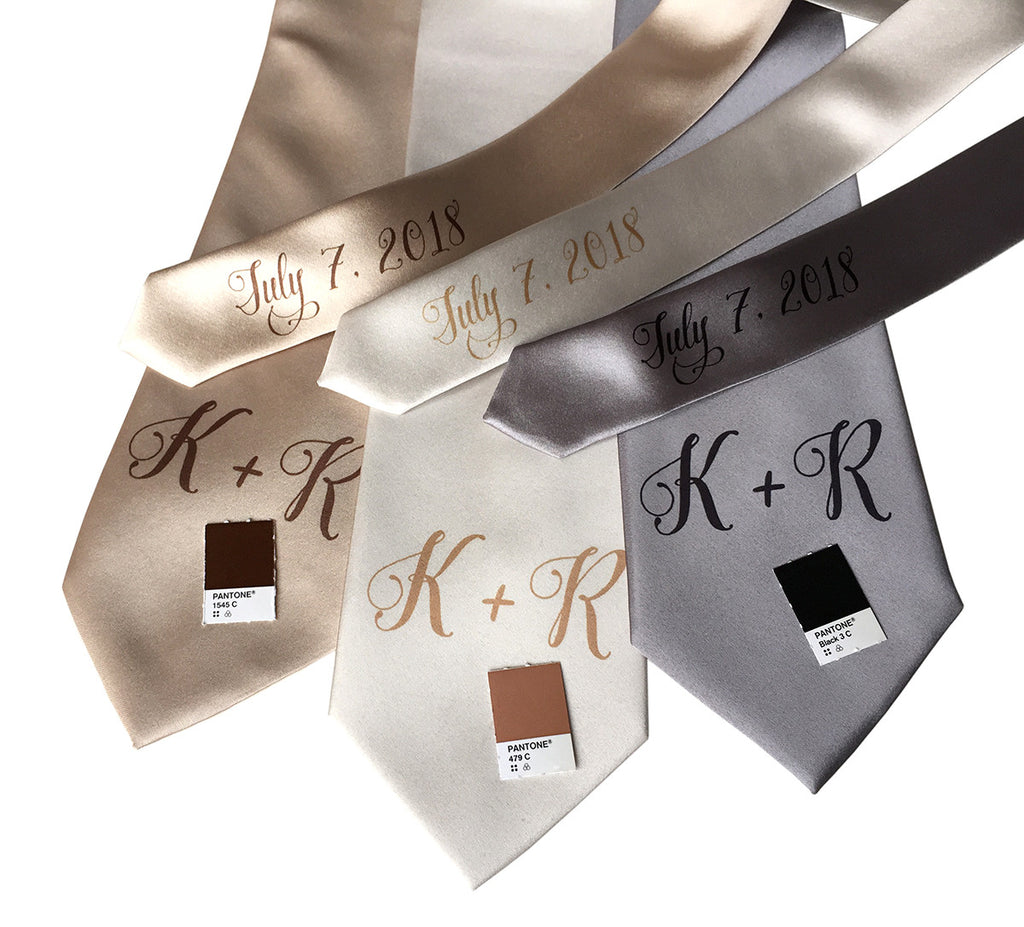 Initials Tie. Personalized Custom Monogram Necktie
Custom Wedding Ties. Personalized Initial Neckties. Ever scrawl your love initials on tree? Now you can have it on a tie. We'll do it right in house for you! A perfect keepsake for groomsmen, wedding parties and keeping it personal. Finally we're offering a custom monogram/initial tie in a beautiful handwritten script font, just for you, your big day, or that special guy that needs his name (our yours) on his tie.

We can also add your wedding date or message of your choosing on the reverse tail for just a little more. Add groomsman's names, location coordinates of your ceremony--the sky's the limit! (Actually, 140 characters is your limit, think tweet, short and sweet!)
• Front Pattern: "Pretty Script" font. Any letters of your choosing.
• Fabric: Silky-soft microfiber. Vegan safe! 
• Printing ink: Non-toxic, sublimation dye. Earth friendly. No waste!
• Print area: Bottom point.
• Tie size: Choose standard or narrow.
• Print size: ~3" wide, depending on letters you choose.
• Color: Many! Your choice. See our color chart right here.
• Care: Hand wash, spot clean, or dry clean.
• Creases and folds? Gently iron high.
Each is custom printed to order with our patent-pending dye-based process. We use high-quality, non-toxic, sublimation printing ink. The dye is ultra soft, completely permanent and merges completely into the fabric! No thick, raised, or textured feel. Hand made in our Detroit Michigan studio.

Choose an elegant and sophisticated tone-on-tone print, or a select a black print on a greater range of darker tie colors. Please see a very detailed "how to" guide here of what color combinations will work best.

Shown in first picture: Dark brown print on champagne; tan on platinum; black on silver. Our photos are not digital mockups, they're real examples of the process. 

Help on choosing the right colors:

Proven color examples that will work: Any dark on light in the same color family. Navy print on light sky blue, hunter green on sea foam, dark pink on light pink, dark brown on champagne. (There's way, way more possible too!) Prefer a darker color fabric for the tie? You *must* choose a black print, like our black on raspberry shown in the gallery.

Examples of what will *not* work: Any light-color letter on dark or medium fabric; like pink on red. Nope! Yellow on brown. Nope! White on purple. Nope! Or any different color, like orange on blue. Nope! [We'll spare you the college color theory.] This is a translucent dye-based process (think like watercolor). The color of the tie fabric influences the color of the dye itself. Any questions (sorry, this was a lot of words) please ask. Use our photos as your guide!

• Remember •
Dark dye on light fabric? YES! ✔
Light dye on dark fabric? NO! ✖
Black dye on light to pretty dark fabric? YES! ✔

• Questions still? • 

Email: orders@cyberoptix.com | 1-855-LAB-TIES | Chat box in lower right corner.
Gift Wrapping Options: