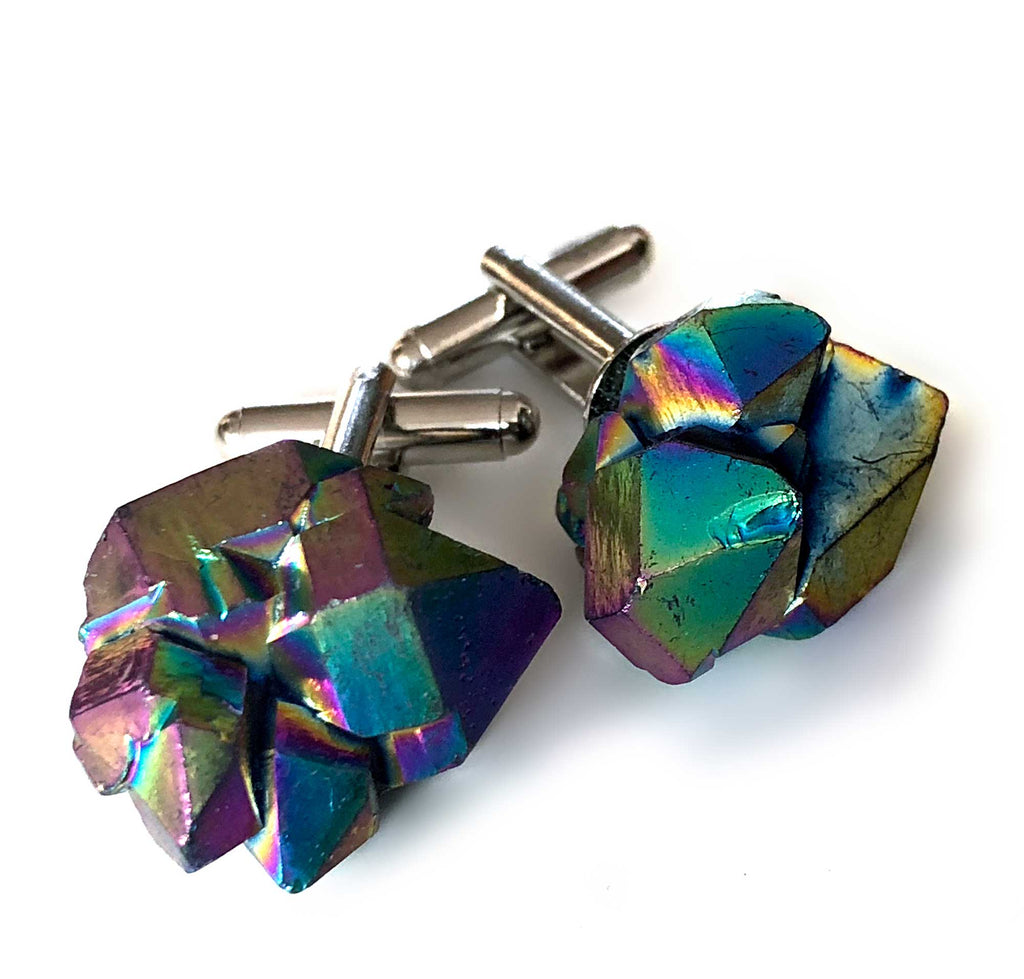 Flame Aura Quartz Cufflinks, Rainbow Titanium coated raw stones
Flame Aura Quartz Cufflinks, Rainbow Titanium coated raw stones.
Each is securely attached with resin to silver electroplated cufflinks.
Stones average ~3/4" wide and ~3/4" tall.
Silver electroplate over copper cufflinks.
Handmade. Please allow for slight variations in color, shape and size of the stones.
Kraft gift box included.
Cat for scale, not for sale! 😻
Makes a perfect gift for any dude or woman, any human that has a cuff that needs fancying! Got a super special occasion? Fathers of the bride, grooms and groomsmen - if only one set is shown as available, more similar stones can usually be sourced quickly and I can make plenty more, we can make sets for wedding parties or groomsmen gifts. Please contact us for specific stone customization requests.

Many healing practitioners prefer natural, untreated stones, however aura quartz is always an exception to that rule. Its array of deep blues, purples and bright greens make it ideal for uplifting your spirits. Titanium molecules are bonded to the quartz through the natural electrostatic charge of the crystal. The brilliant color of flame aura is the result of optical interference produced by layers of titanium. Since only electricity is used to deposit the titanium layers and create these colors, very little heat is involved and the natural integrity of the crystal is maintained.

Each pair of cufflinks is unique and one of a kind, and made by hand by Cyberoptix founder, Bethany Shorb. Working between Detroit, MI and Los Angeles, CA, she finds all our stone, crystal, shell, fossil and horn specimens. They are intuitively sourced in person, in LA from only the most reputable suppliers.
Gift Wrapping Options: