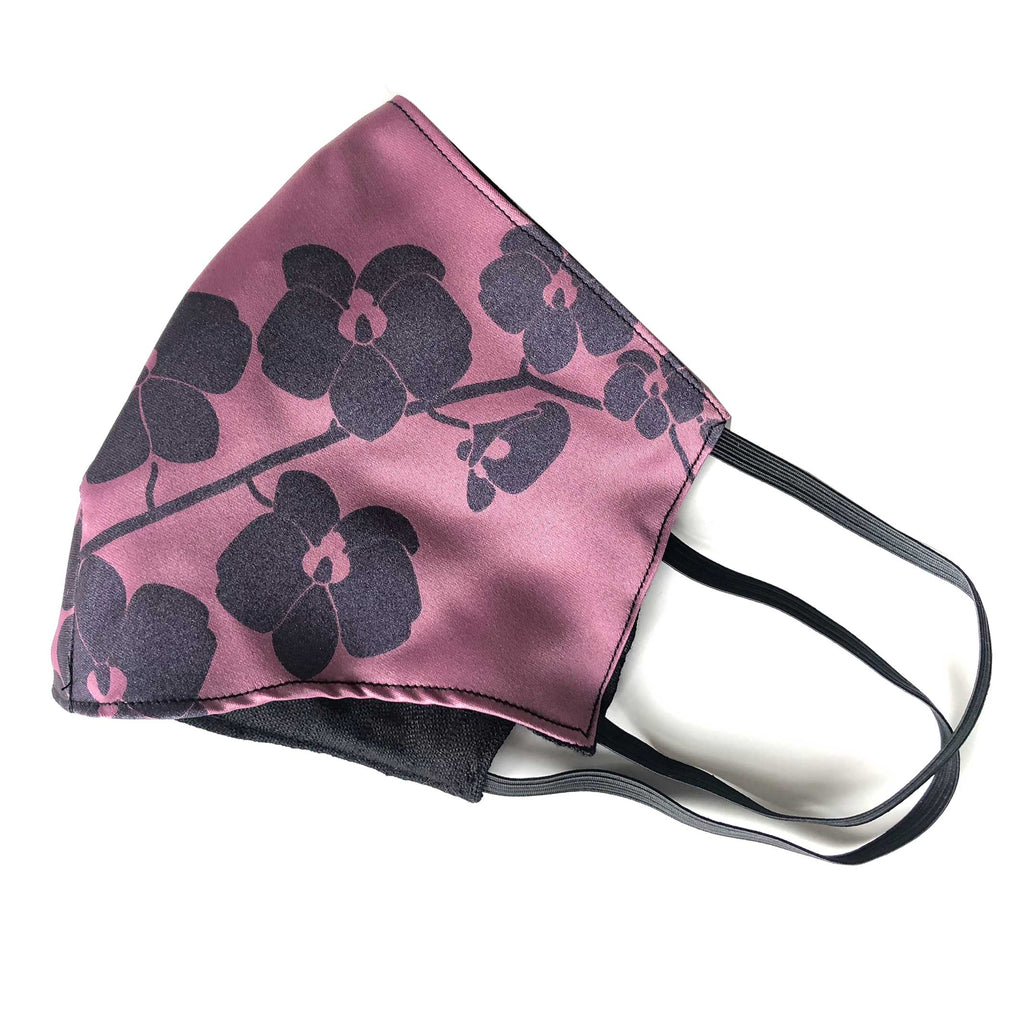 Custom Color Printed Face Masks
Yes, this is where you order up customized microfiber face covers!

For only $5 more than our standard cart choices, you can build a mask in the perfect color and design combination that is unique to your style, the event you're planning, or organization you belong to. Since you've gotta wear 'em, show your style, and be fancy! And YES - match your mask to your tie or bow tie!!! See all our colors right here.
Design Suggestions
Nearly all of our tie and scarf graphics can be translated to a mask! Any questions about what designs and print colors work best, please don't hesitate to contact us!

Specifications


•  vegan-safe satin microfiber
•  batch dyed and handsewn
•  soft and silky to the touch
•  NEW: Now adjustable, 1/4" elastic ear loops!!!! One size truly does fit all - if you have an itty-bitty, petite face, or an XXL melon or beard, our ear straps now have comfortable silicone adjusters to truly fit all.
•  Reusable and machine washable See care instructions
75 Fabric colors
aluminum, apple green, aqua, ballet pink, black, burgundy, butter yellow, carrot, celery, champagne, charcoal grey, cinnamon, coral, cream, crimson red, dark brown, dark salmon, dark silver, dark teal green, deep purple, driftwood, eggplant, electric blue, emerald green, french blue, fuchsia, gold, gunmetal, honey, honeysuckle, hot pink, ice blue, ivory, kelly, lavender, lemon yellow, light pink, marigold, maroon, milk chocolate, mint, mushroom grey, mustard, navy blue, olive green, orchid, oyster, pale copper, peach, peacock, periwinkle, pink, platinum, plum, purple, raspberry, red, rose, royal blue, rust, saffron, sage, salmon, seafoam, silver, sky blue, soft gold, spiced wine, spring green, steel blue, teal green, teal blue, turquoise, violet, white

100+ Printing ink colors

amethyst, antique brass, apple-lime, aqua, aubergine, black, black pearl, blue-violet, brass pearl, bright lime, bronze, burgundy, burnt orange, butter, buttercup, chartreuse, chocolate, clover, cobalt, copper, coral, cornflower, crimson, dark black pearl, dark burgundy, dark chartreuse, dark coral, dark emerald, dark grey, dark purple, dark salmon, dark teal, deep purple, dove grey, eggplant, electric blue, emerald, espresso, fuchsia-berry, ginger, glow blue, glow fuchsia, glow pink, glow violet, glow yellow, gold, golden olive, grass, green grey, hot pink, ice, ivory-cream, key lime, lavender, light coral, light pink, light sky, light violet, magenta, mahogany, marigold, mauve, mid-teal, mint, moss, mustard, muted orange, navy, orange, pale grey, pale lavender, pale sun, pea, peach, pear, periwinkle, pink, platinum, pumpkin, radiant orchid, raspberry, red, rose, rosebloom, royal blue, rust, sage, scarlet, sherbet, silver, sky, slate, smoke, soft gold, spring green, steel, tan, tangerine, taupe, teal, tiffany, turquoise, warm cream, warm eggplant, white, yellow
Please note
Though our masks are photographed in natural light, monitor renditions may vary. When color matching is crucial for a special event, please use our
swatch service
to be sure!
Each mask is hand-screenprinted to order in the USA in our Detroit, Michigan studio.
Gift Wrapping Options: