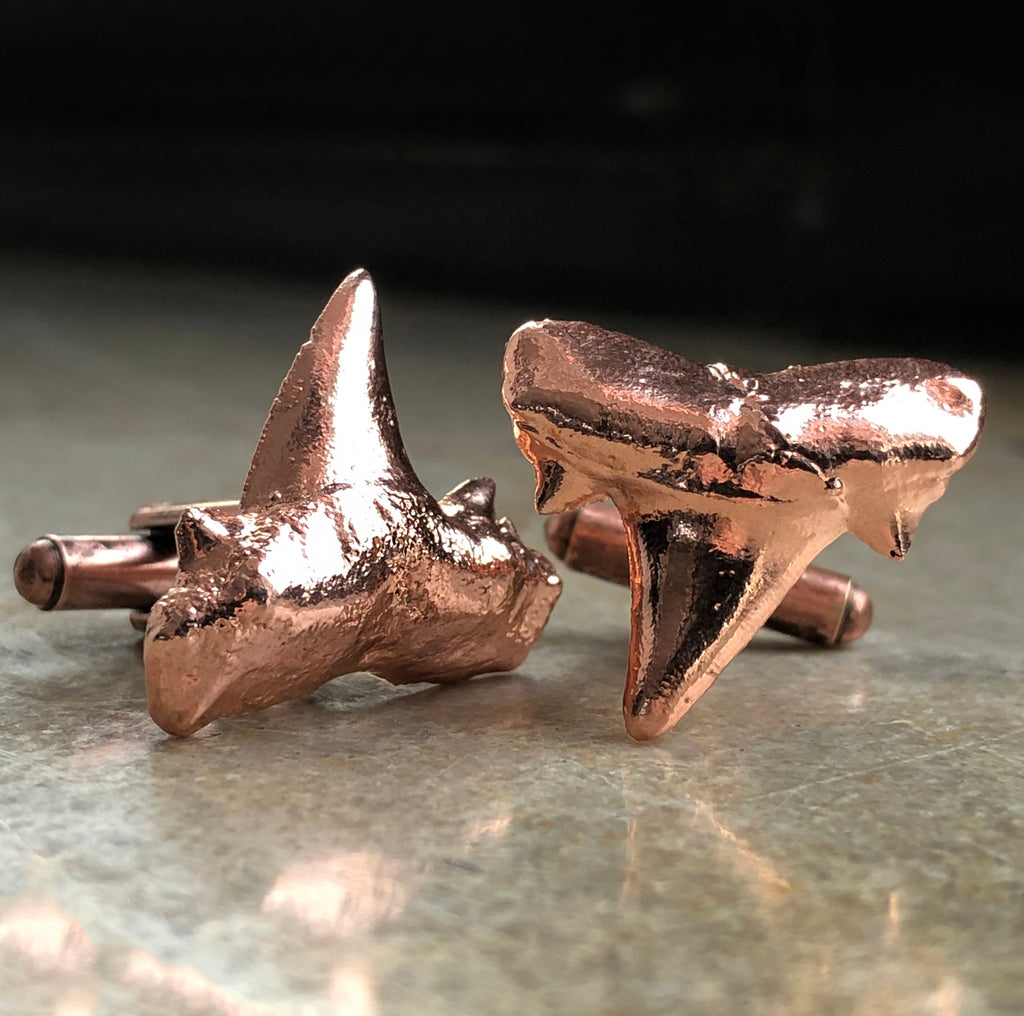 Copper Plated Fossil Shark Tooth Cufflinks, electroformed copper
Copper Plated, Fossilized Shark Tooth Cufflinks
, electroformed copper. All handmade; we love metalworking, all copper is electroformed by us right in-house! 
Otodus shark teeth average ~3/4" long.
The real tooth is encased in coper, not a casting or copy!
Bullet back cufflink.
Each is one of a kind!
Bright, textured, electroformed copper surrounding the teeth
Handmade. Please allow for slight variations in color, shape and size of the teeth.
Fossilized tooth origin: Morocco
Kraft gift box included.
Did you know that sharks grow and shed thousands of teeth during their lifetimes? The teeth of sharks are constantly regenerated, each tooth that is lost or broken is quickly replaced by a new one. This is why they're so abundant in the fossil record. Otodus sharks seem to have been directly ancestrally related to Megalodon, the 50-foot-long, 50-ton predatory behemoths that ruled the world's oceans right until the cusp of the modern era.


What is Electroforming?

Electroforming is the intricate process of fusing metal onto another medium using a low voltage electrical charge. The scientific process was discovered by Professor Moritz von Jacobi in the Academy of Science, St Petersburg, Russia. Thomas Edison used electroforming in his work, as did Michael Faraday, a famous 19th century physicist and chemist.

Coated with a conductive medium, the cufflinks are suspended in an electrolytic solution comprised of acid and copper sulfate. The electrical charge breaks down a positively charged copper anode and deposits it onto the piece, which is suspended from the negatively charged cathode. A layer of copper very slowly forms over the piece. After many hours of moving copper ions onto the organic piece, it is removed from the bath and goes on to polish, patina, and sealing processes. The piece is then ready to become jewelry! It is hardy and durable, while the original organic material remains encased in the copper.
---
Make this design uniquely yours by
choosing custom ink and fabric colors.
If you would like help from the pros when choosing custom colors to match please email us at
orders@cyberoptix.com
You can also call
855-LAB-TIES
(522-8437) during Monday-Friday 9:00am-5:00pm
Gift Wrapping Options: