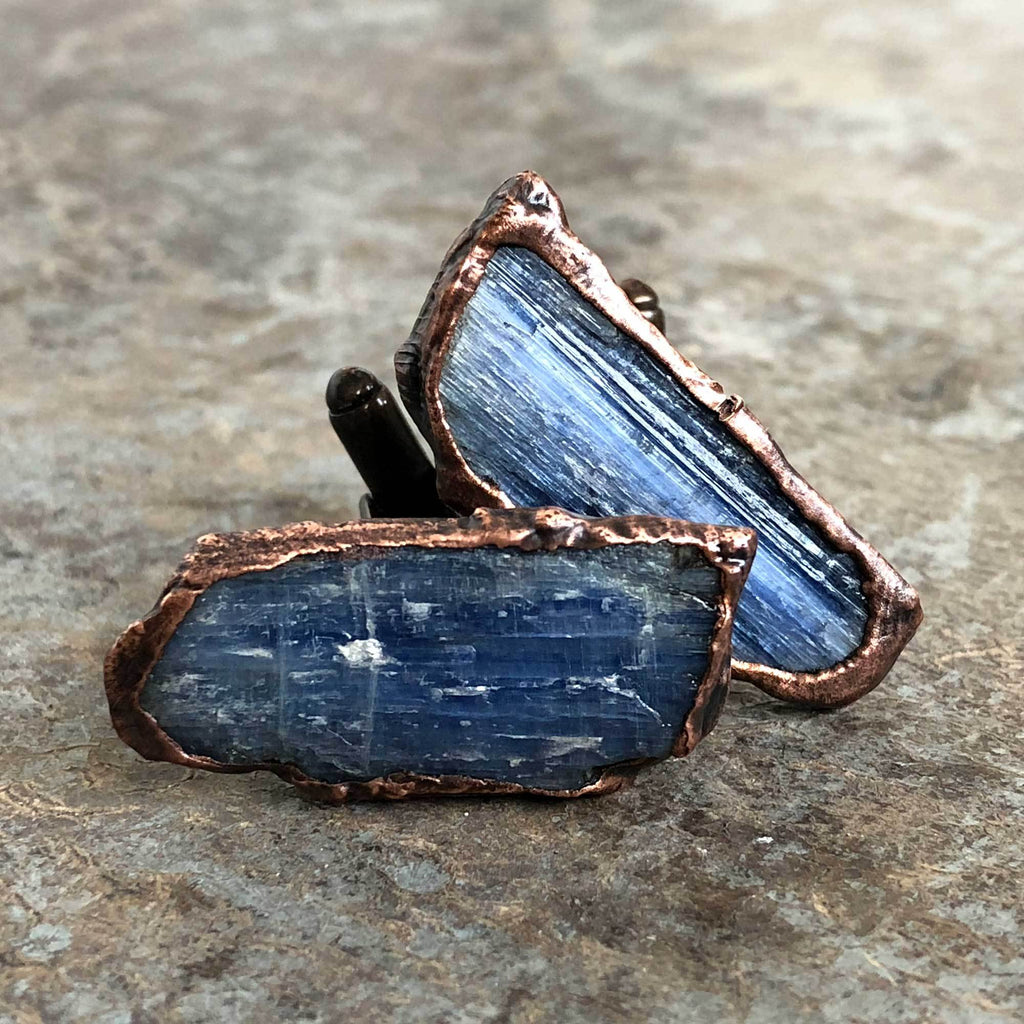 Blue Kyanite Electroformed Cufflinks, raw stone cuff links
Blue Kyanite Cufflinks. Electroformed copper & kyanite blade, raw stone cuff links. Brilliant blue raw stone men's cuff links. All handmade; we love metalworking, copper electroformed by us right in-house!
Freeform blue kyanite blades average ~1" long & ~1/2" wide.
Bullet back cufflink.
Each is one of a kind!
Textured, electroformed copper surrounding the stones.
Handmade. Please allow for slight variations in color, shape and size of the stones.
Kraft gift box included.
Each pair of cufflinks is unique and one of a kind, and made by hand by printmaker, metalworking artist and Cyberoptix founder, Bethany Shorb. I work between Detroit, MI and Los Angeles, CA, where I source all our stone, crystal, shell, fossil and horn specimens. They are intuitively sourced in person, in LA from only the most reputable suppliers.

• • • • • • • •

Intuitive healers believe that in the workplace, Kyanite promotes good communication, bridging the gap between different beliefs and ideas, and encourages self-expression and speaking one's truth. Hold or wear Kyanite when addressing a group, or leading a seminar or team meeting. It sharpens communication skills, and is particularly helpful when answering questions or when there is a need to improvise! [Hall, 167][Eason, 225][Ahsian, 224]


What is Electroforming?

Electroforming is the intricate process of fusing metal onto another medium using a low voltage electrical charge. The scientific process was discovered by Professor Moritz von Jacobi in the Academy of Science, St Petersburg, Russia. Thomas Edison used electroforming in his work, as did Michael Faraday, a famous 19th century physicist and chemist.

Coated with a conductive medium, the cufflinks are suspended in an electrolytic solution comprised of acid and copper sulfate. The electrical charge breaks down a positively charged copper anode and deposits it onto the piece, which is suspended from the negatively charged cathode. A layer of copper very slowly forms over the piece. After many hours of moving copper ions onto the organic piece, it is removed from the bath and goes on to polish, patina, and sealing processes. The piece is then ready to become jewelry! It is hardy and durable, while the original organic material remains encased in the copper.
Gift Wrapping Options: