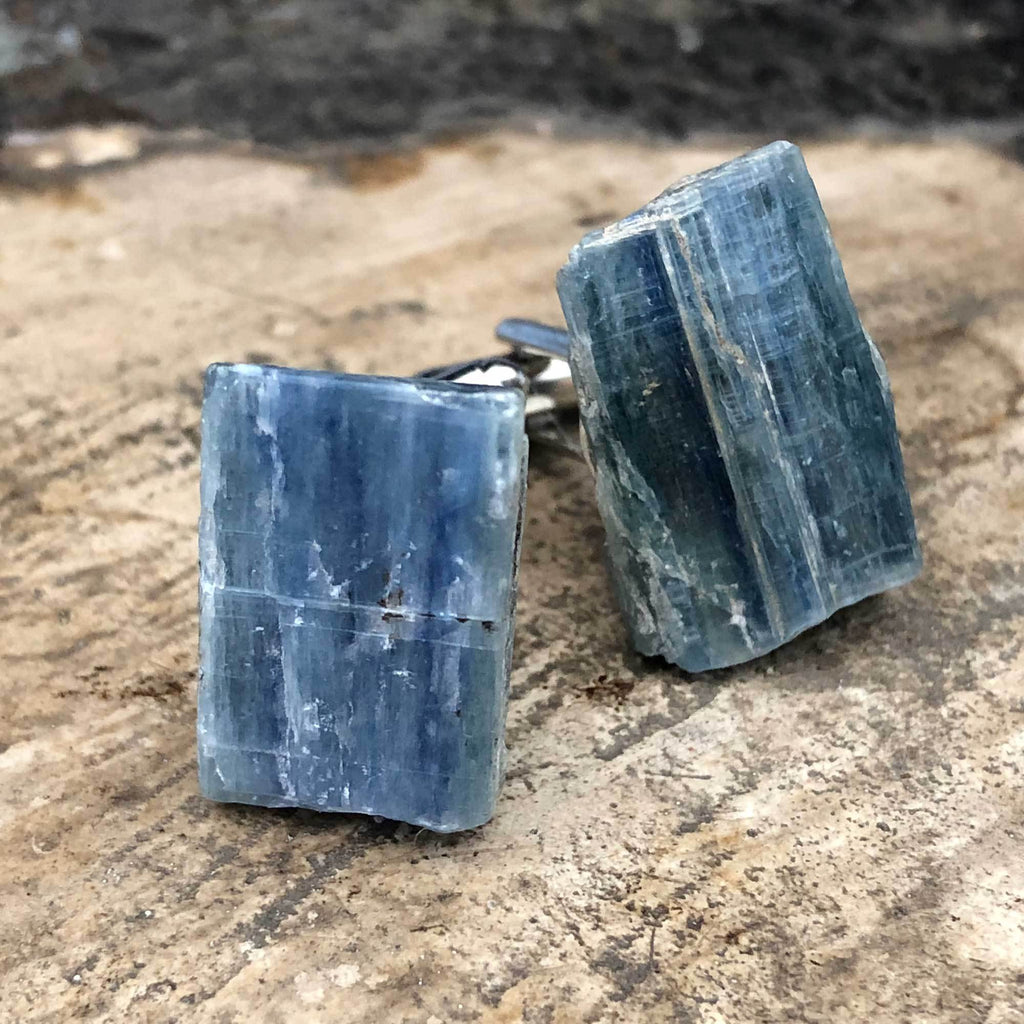 Blue Kyanite Cufflinks, natural raw stone cufflinks
Blue Kyanite Cufflinks, natural raw stone cufflinks.
In need of "something blue?" Have we ever got the stone cufflinks for you! Each is securely attached with resin to silver electroplated cufflinks.
Stones average ~3/4" wide and ~1/3" tall.
Silver electroplate over copper cufflinks.
Handmade. Please allow for slight variations in color, shape and size of the stones.
Kraft gift box included.

Intuitive healers believe that in the workplace, Kyanite promotes good communication, bridging the gap between different beliefs and ideas, and encourages self-expression and speaking one's truth. Hold or wear Kyanite when addressing a group, or leading a seminar or team meeting. It sharpens communication skills, and is particularly helpful when answering questions or when there is a need to improvise! [Hall, 167][Eason, 225][Ahsian, 224]

Makes a perfect gift for any dude or woman, any human that has a cuff that needs fancying! Got a super special occasion? Fathers of the bride, grooms and groomsmen - if only one set is shown as available, more similar stones can usually be sourced quickly and I can make plenty more, we can make sets for wedding parties or groomsmen gifts. Please contact us for specific stone customization requests.

Each pair of cufflinks is unique and one of a kind, and made by hand by Cyberoptix founder, Bethany Shorb. Working between Detroit, MI and Los Angeles, CA, she finds all our stone, crystal, shell, fossil and horn specimens. They are intuitively sourced in person, in LA from only the most reputable suppliers.
Gift Wrapping Options: