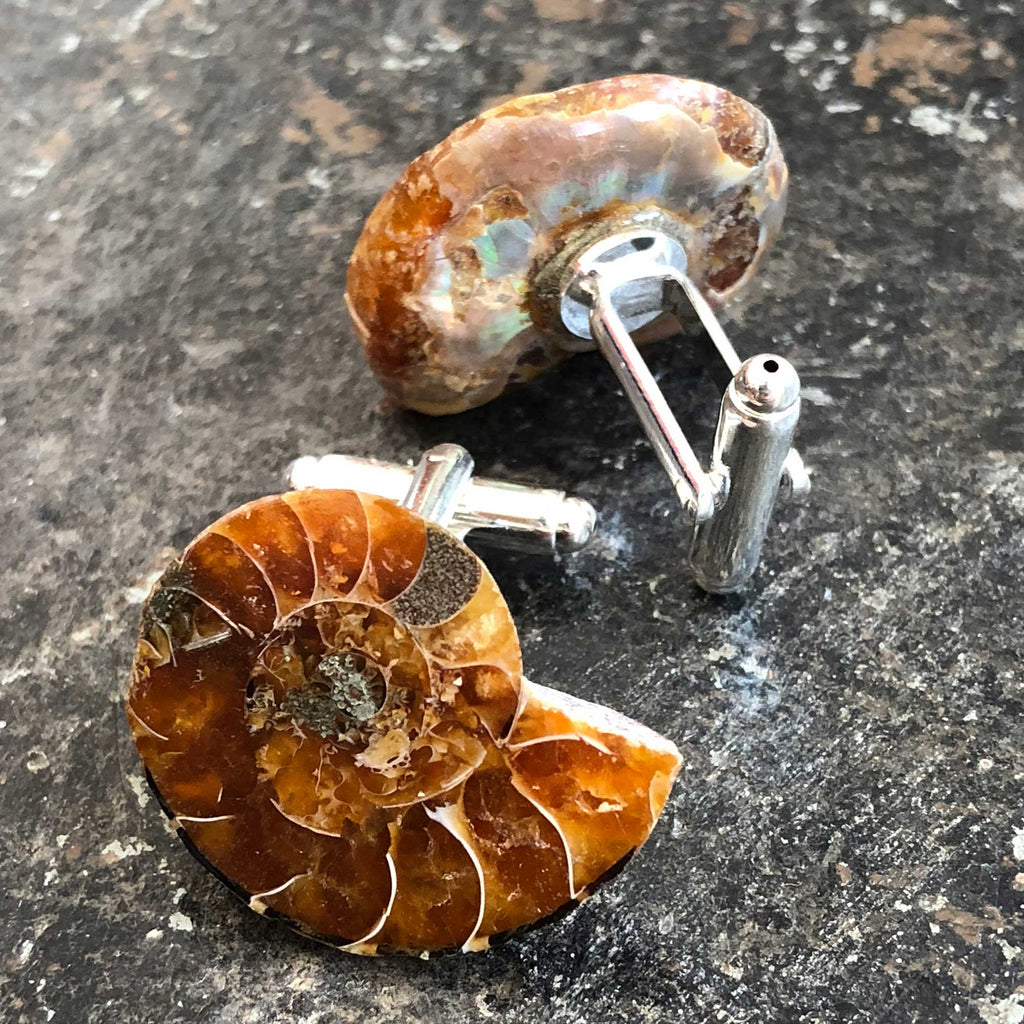 Ammonite Cufflinks, golden ratio men's fossil cufflinks
Ammonite Cufflinks, golden ratio, men's fossil cufflinks.
Each is securely attached with resin to silver-tone cufflink hardware.
Ammonite halves average 1" wide x 3/4" tall x 1/4" deep
Matched polished pair. 
Easy-to-use, silver-tone, bullet-back hardware.

Handmade. Please allow for slight variations in color, shape and size of the stones. Each fossil is unique!
NEW! Reverse is coated in resin to bring out the color and prevent cracking
Stones hand-picked in person at the Tucson and Quartzsite Gem Shows
Stone origin: Madagascar.
Hand-selected, extra quality stones
Fancy gift box included.
Ammonites were predatory mollusks that resembled a squid with a shell. These cephalopods had eyes, tentacles, and spiral shells. They are more closely related to a living octopus, though the shells resemble that of a nautilus. Ammonites appeared in the fossil record about 240 million years ago.
Makes a perfect gift for any dude or woman, any human that has a cuff that needs fancying! Got a super special occasion? Fathers of the bride, grooms and groomsmen - if only one set is shown as available, more similar stones can usually be sourced quickly and I can make plenty more, we can make sets for wedding parties or groomsmen gifts. Please contact us for specific stone customization requests.

Each pair of cufflinks is unique and one of a kind, and made by hand by Cyberoptix founder, Bethany Shorb. Working between Detroit, MI and Los Angeles, CA, she finds all our stone, crystal, shell, fossil and horn specimens. They are intuitively sourced in person, in LA from only the most reputable suppliers.
Gift Wrapping Options: