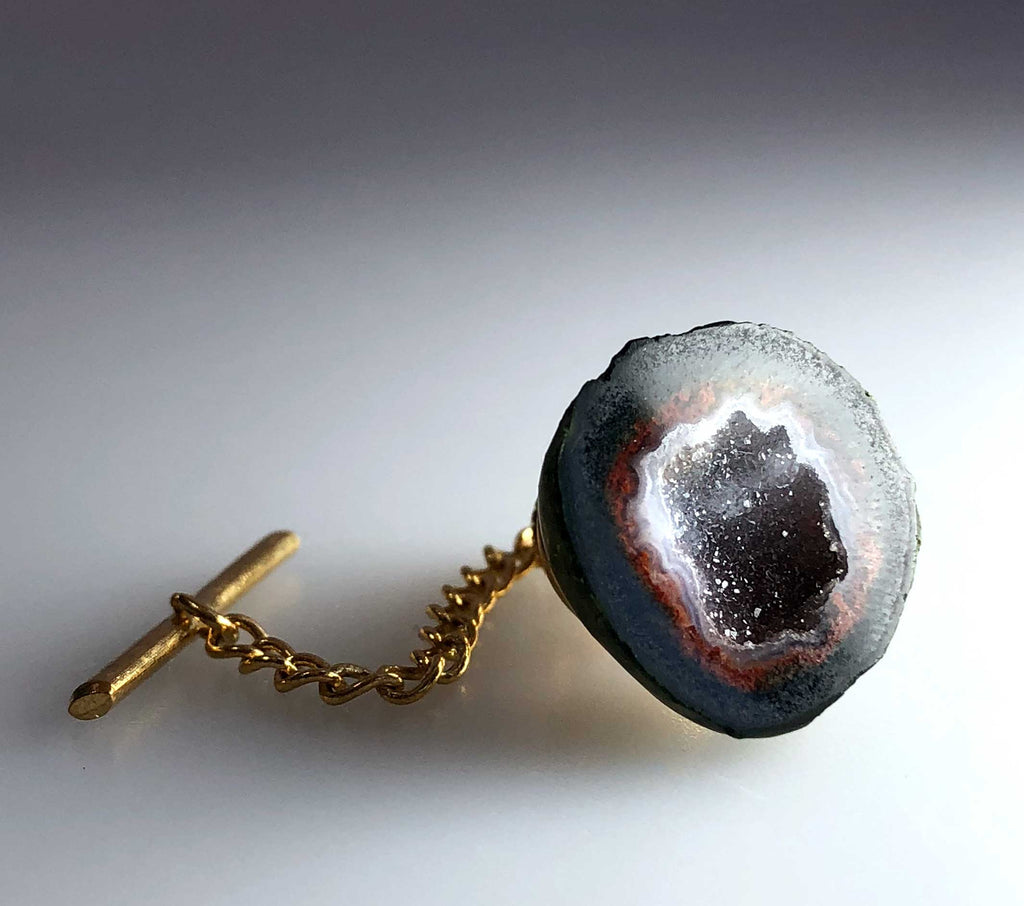 Amethyst Geode Tie Tack, Tabasco geode tie pin
Amethyst Geode Tie Tack, Tabasco geode tie pin. A tie tack is snazzy tie jewelry with fun AND function!



Stones average ~1.5cm at their widest

Tabasco geodes - tiniest geodes in the world!
Each is securely attached to metal tie pin and clutch with t-bar chain.
Many have a red agate rind surrounding the druzy
Brilliant, sparkly tiny druzy crystals
Geode reverse is coated in resin to bring out the color and prevent cracking
Stone origin: Mined near the town of Tabasco, southwest of Zacatecas, Mexico.
Natural, un-dyed stones
Handmade. Please allow for slight variations in color, shape and size of the stones.
Snazzy gift box included.


► HOW TO!? Pin to your tie to keep it from swaying and add an unforgettable decorative accent to your outfit. 

Insert the T-bar through the third buttonhole on your shirt.
Push the pointed post through your tie
Insert the post into the clutch hanging from the chain. Hold the clutch with your fingertips and slide the post into it.
Now you're sorted! The chain will live behind the tie and keep it from swinging.
When pinning: don't stretch or pull your tie tight, instead, allow it to hang naturally so it doesn't bunch up or create a larger hole when you push the post through it.
Can't pierce your nose or ear at work? Be a tie-piercing rebel! Yep, whenever you use a tie pin, there will be a small hole in your tie. After wearing, you can gently steam the little hole with an iron, to make it shrink a bit. (Please do not steam your nose or ear or anything else you may have pierced already.)
► ABOUT THE STONE: Tabasco Geodes, formally known as illianites, are the world's smallest geode formation. Each has a rind of agate with teeny tiny druzy quartz crystals in their mini cave center. The region where these are sourced was known for volcanic activity which results in this unique rock formation.
►NEED MORE?
Makes a perfect gift for any dude or woman, any human that has a cuff that needs fancying! Got a super special occasion? Fathers of the bride, grooms and groomsmen - more similar stones can usually be sourced and I can make plenty more, we can make sets for wedding parties or groomsmen gifts. Please contact us for specific stone customization requests.

► ABOUT THE MAKER:
Each pair of cufflinks is unique and one of a kind, and made by hand by printmaker, metalworking artist and Cyberoptix founder, Bethany Shorb. I work between Detroit, MI and Los Angeles, CA, where I source all our stone, crystal, shell, fossil and horn specimens there and at the Tuscon and Quartzsite AZ gem shows. All are intuitively sourced in person, from only the most reputable suppliers.

---
Make this design uniquely yours by
choosing custom ink and fabric colors.
If you would like help from the pros when choosing custom colors to match please email us at
orders@cyberoptix.com
You can also call
855-LAB-TIES
(522-8437) during Monday-Friday 9:00am-5:00pm
Gift Wrapping Options: