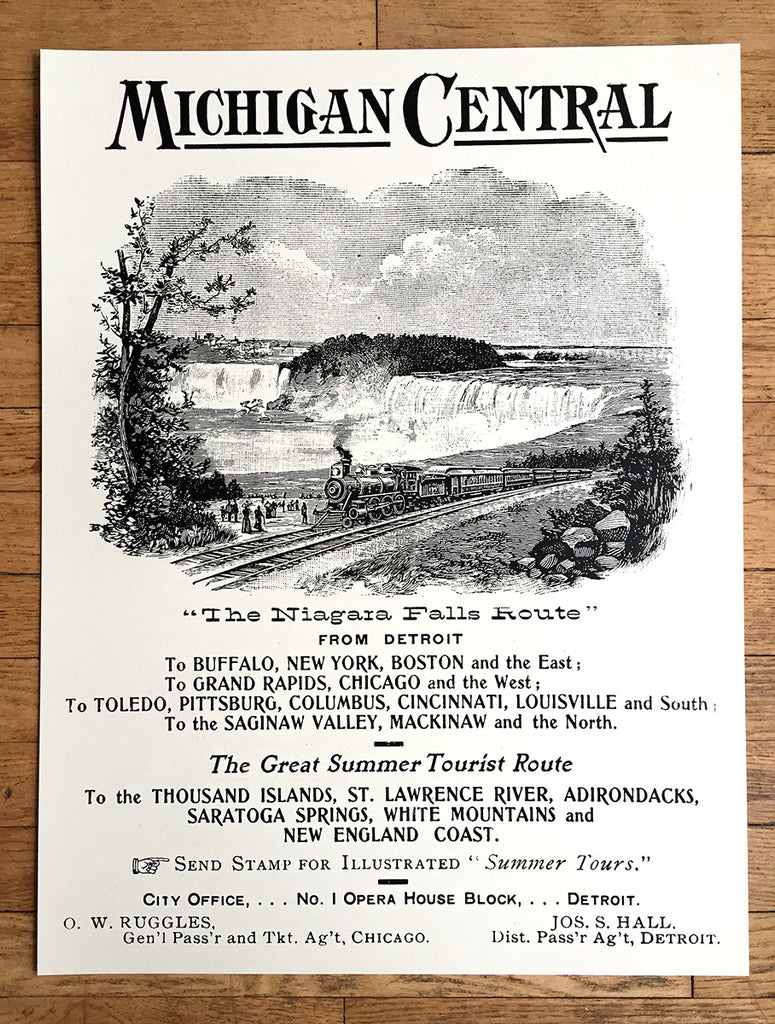 Michigan Central Railroad Art Print
Michigan Central Railroad, Screen Print Poster. Railroad history, locomotive, train art print. 19 x 25 inches, hand-pulled silkscreen print. Adapted from an 1800s tour guide. Designed and printed by hand in our Detroit, Michigan studio.
Love our designs but don't wear ties or scarves? We heard your feedback...and we know you've all got walls. Fancy up your home, office, dorm or man cave. Prints make perfect gifts that always fit! 
This open-edition art poster is printed by hand with non-toxic water-based ink. Printed onto Michigan-made and milled, French heavyweight fine art paper, 100lb. cover. 
• Design: Michigan Central Railroad.
• Paper origin: French Paper, Michigan, USA.
• Sustainability: Recycled. 100% post consumer content.
• Paper size: 19 x 25 inches. (48.26 x 63.5 cm)
• Paper weight: 100 lb. cover. Archival, acid-free.
• Paper color: Navy blue or cream.
• Printing ink: Non-toxic, waterbased ink. Black.
• Screenprint size: 17 x 24 inches.
• Print method: Hand-pulled.
• Edition: Open edition.
• Unframed: Ready to go in the style of your choosing!
• Packaging: Shipped in a sturdy mailing tube.
Prior to the automobile, Michigan Central Railroad was mostly a carrier of natural resources. The Michigan Central RR was founded in 1846, establishing rail service between Detroit, Michigan and St. Joseph, Michigan. The railroad later operated in the states of Michigan, Indiana, and Illinois in the United States, and the province of Ontario in Canada.