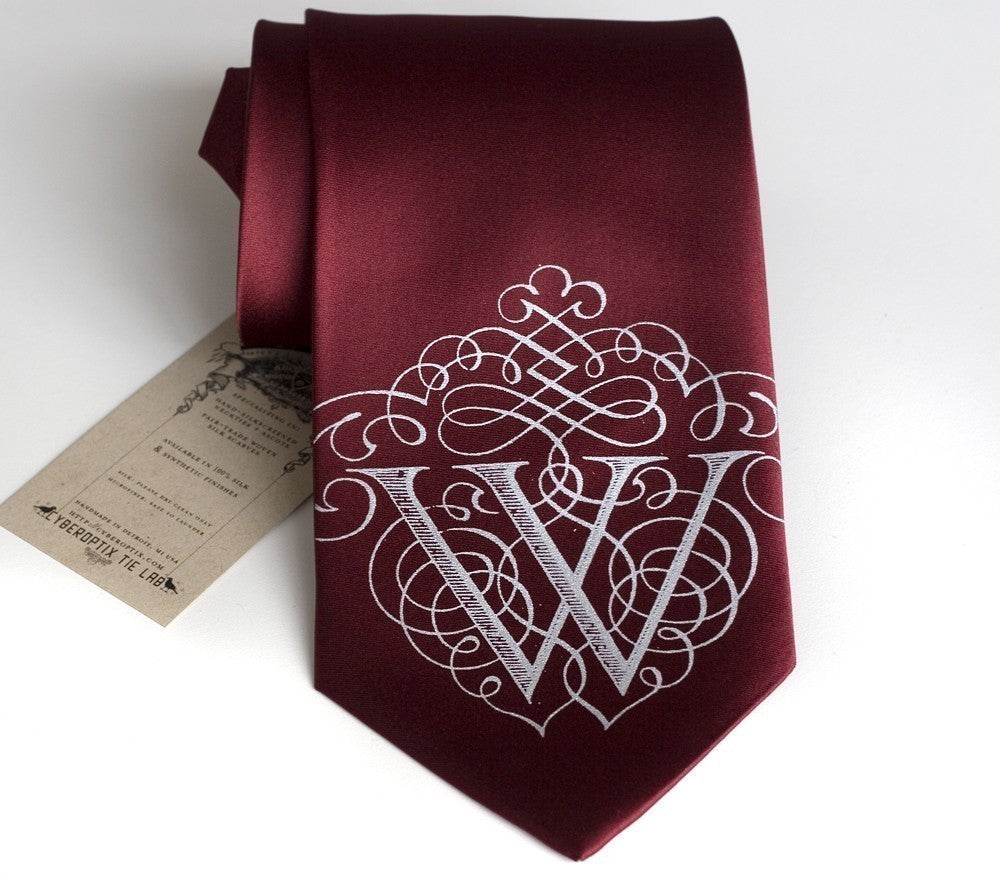 Initial Necktie. Personalized Monogram Tie, AlphabeTIES
Personalized initial men's necktie. AlphabeTIES. Our worst pun ever - but a perfect solution for wedding parties and keeping it personal!
• Pattern: Single Letter - choose from 5 fonts
• Fabric: Silky-soft microfiber
• Printing ink: Non-toxic, waterbased ink.
• Print area: Bottom point or top under knot. You pick!
• Tie size: Choose standard or narrow.
• Print size: 3"-5" tall, depending on letter.
• Color: Many! Your choice from dropdown menu.
• Care: Spot clean, or dry clean.
• Creases and folds? Gently iron high.
Filigree Script: A baroque filigree script, re-created from an antique 16th century illuminated manuscript. As all letters were not used in the antique set, we hand-drew a few of our own to make a complete A-Z set. Shown: silver ink 'W' on burgundy standard width - bottom placement.
Angular Block: a striking slab typeface with a graceful flare on stem ends, and a Q so beautiful it makes us want to change our names to wear it. Bold enough to be seen from across the room, but still refined. Shown: dark gray ink 'W' on silver narrow - bottom placement.
Cross-stitch: a nostalgic homage to the craft of cross stitch - enjoying a renaissance among design fans and crafters alike. This type is subtler overall, but each letterform creates lovely shapes even before the letter is 'read'. Shown: white ink 'D' on champagne - bottom placement.
Art Deco: a beautiful typeface featuring the fancy curls and decorative embellishments of the golden age of design and lettering. Shown: dark chartreuse ink 'L' on emerald - bottom placement.
Old English Blackletter: the most elegant, yet metal script ever - our favorite, most beloved font used throughout Western Europe from the 11th to the 20th centuries. Shown: antique brass ink 'R' on spiced wine standard width - bottom placement.
Generally, you can choose Top or Bottom placement. Top placement is approximately 16" up from the bottom of the tie, designed to show under a jacket or vest. Please note that some wider Filigree font letters will not fit in the top placement, especially on the narrow width ties. See letter maps to see if your chosen letter is wider than average.
► ALPHABETIES ARE FINAL SALE.

There are no exchanges or returns granted for our entire AlphabeTIES line except in the case of defective or misprinted items. We'd love to be able to exchange, but the chances of someone else ordering the letter you want in the font you want in the tie color you want and the printing ink you want in the size you want ...the odds of winning Powerball are better! (We did the math. It's true.) Be sure to triple check that you've chosen the font, ink color, and tie color+width you want before placing your order.  Feeling a little unsure about your choices?  Order a swatch and enjoy the peace of mind that comes with making an informed tie decision! 
Printing ink placed on textured material (herringbone silk, diagonal fine-stripe, paisley)  will not have exactly the same solid coverage that's shown on our smooth satin microfiber or satin silk ties. Our high-end textured fabrics have a more uneven surface to print on; you wouldn't expect a line painted on paper to look the same as one painted on cement! (A little hyperbole, but you get it!) These small inconsistencies are part of the character of each tie and won't be considered a defect.
Gift Wrapping Options: